Virgil Donati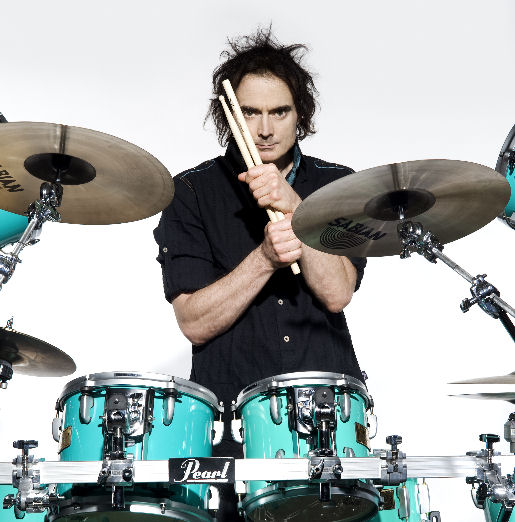 Virgil Donati was born on 22 October 1958 in Melbourne, Australia of Italian descent. He got his first drumset at age 2. He started playing soon after with his father's showband, and kept on doing these shows until he was around 6 years old.
He joined his first major rock band and signed with his first major record label at the age of 15. The band was first called Cloud Nine, but was later renamed Taste, with whom he recorded 3 albums. At 21, playing jazz with Allan Zavod and Brian Brown, and rock with Peter Cupples' band, he was a busy touring and session drummer in Australia. His own pop band, The State turned into Southern Sons, which led to Donati's first taste of international fame, with their self-titled debut selling multi-platinum and producing the international hit single 'Heart In Danger'.
During the 1980s Donati's drumming was a feature of the Melbourne-based jazz-rock fusion band 'Changes (Virgil Donati Drums, Joe Chindamo Keyboards, Mark Domoney Guitar, Steve Hadley Bass, John Barrett Saxophone), which later became Loose Change (a quartet - same lineup as 'Changes' minus Saxophone).
The big break came in 1995 where Donati's first solo album Stretch was released. In 1999 Donati released On The Virg: Serious Young Insects through Melbourne based record company Vorticity Music.
In 1999, Ex-Dream Theater keyboardist Derek Sherinian hired Virgil to play drums, and co-write on his debut solo record Planet X. The collaboration morphed into the metal-fusion band Planet X. Together they have released three studio albums; Universe, MoonBabies, Quantum, and one live album, Live from Oz. Donati has also made numerous live appearances worldwide with fusion leaders Scott Henderson and Tribal Tech.
In 2004, Donati was voted the no.1 clinician of the year by the readers of the popular drummer magazine, Modern Drummer. In 2007, he toured with French superstar Michel Polnareff on his sold out comeback tour of France.
Donati played with many artists, including Steve Vai, Allan Holdsworth, Bunny Brunel, Tony MacAlpine, Scott Henderson and Frank Gambale. These days, Donati lives and spends most of his time in the United States playing with a number of different bands. Donati was also one of seven drummers auditioned to replace Mike Portnoy in Dream Theater. As of fall of 2012 Donati has been touring extensively with guitarist Allan Holdsworth and bassists Jimmy Haslip and Anthony Crawford, playing at various venues in the United States, Canada and Europe.
Virgil Donati plays Pearl drums with "Signature Virgil Donati" snare, Sabian cymbals (HHX, saturation, HH and AA series), Vater sticks and Remo drumheads.