The RLSG story


The JADE trio in 1997 (F. Munier, L. Quantin, R. Louis-Servais)
In 1997, Renaud Louis-Servais set-up the JADE instrumental trio with Laurent Quantin (batterie) and François Munier (basse), which aim is to mix the Rock energy with the Jazz harmonic richness. Laurent Canas, a keyboard player who used to play with Michel Jonasz, joins the band in 1999, and the bass player is replaced by Eric Evangelista. A new quartet is born and starts playing concerts locally. Laurent Quantin leaves the band in 2000 and is replaced by Alain Bidot-Naude, newly arrived from the Basque country with a first prize from the Agostini school in Bordeaux in his pocket. The quartet has found its name – ILUNA – and plays a lot of concerts around Paris and at the Baiser Salé jazz bar (Paris). A four-track demo recorded in 2001 gets very good reviews. Henri Dorina, bass player, joins the quartet in 2003. The band matures thanks to this experienced musician who has worked alongside Rido Bayonne, Moktar Samba and Paco Sery.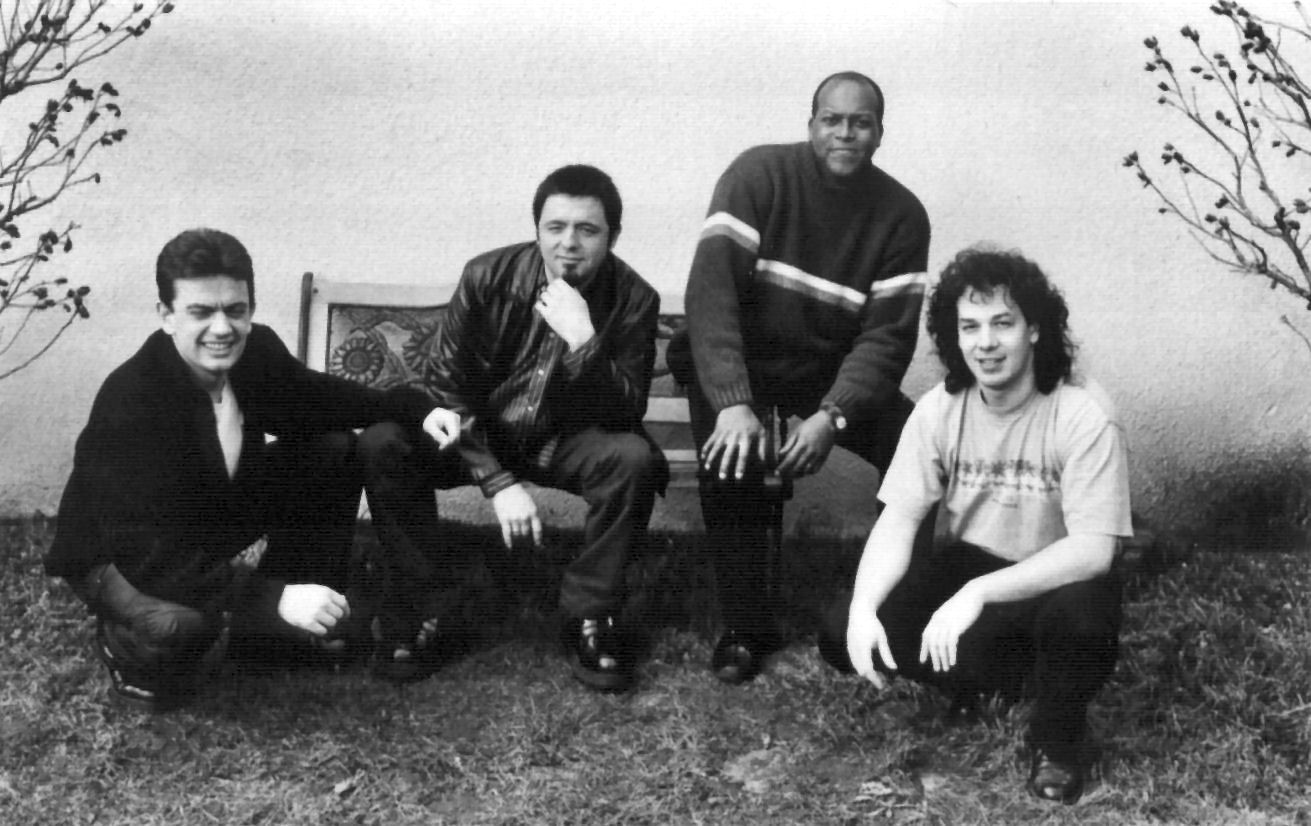 The ILUNA quartet in 2003 (L. Canas, A. Bidot-Naude, H. Dorina, R. Louis-Servais)
Laurent Canas leaves the band in 2006 and is replaced by Guillaume Roussel. In 2008, the band reaches semi-final stages at the prestigious International Songwriting Competition with its title 'Gimmick', and again in 2009 with two titles 'Thème d'Iluna' and 'Euria (Cycle de la pluie)'. At that point, the band felt the need to record the different facets of its music and began digging through the music material composed over the past 10 years (almost literally!) to select part of it for the album. It is the opportunity for a name changing and the quartet will be named RLSG from then. Instead of recording in a 'conventional' studio, the idea was to set up two fully compatible home studios, to work separately whilst being able to share recordings. Alain set up one studio for acoustics, drums and brass, and Renaud another to record the bass, guitar and keyboards. Recording could begin, with the help of Steve Prestage (Gino Vannelli, Gary Moore, Peter Gabriel...) who provided valuable sound recording advice... Franck Guicherd who joined the band in 2010 recorded the bugle and most of the keyboard takes.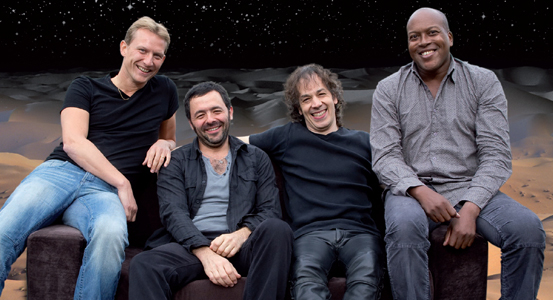 The RLSG in 2011 (F. Guicherd, A. Bidot-Naude, R. Louis-Servais, H. Dorina)
Alessandro Nocco, met in 2008, travelled specially from Italy for 4 days to record saxophone parts and several months later… the debut album, titled 'ILUNA' was finally ready. For live performances, Alain Debiossat (Sixun saxophonist) replaces Alessandro Nocco, and Pierre Accourt (Raùl Paz, Enzo Enzo) supports Franck Guicherd on synthesizers and programmations.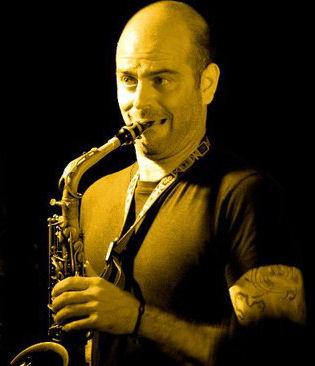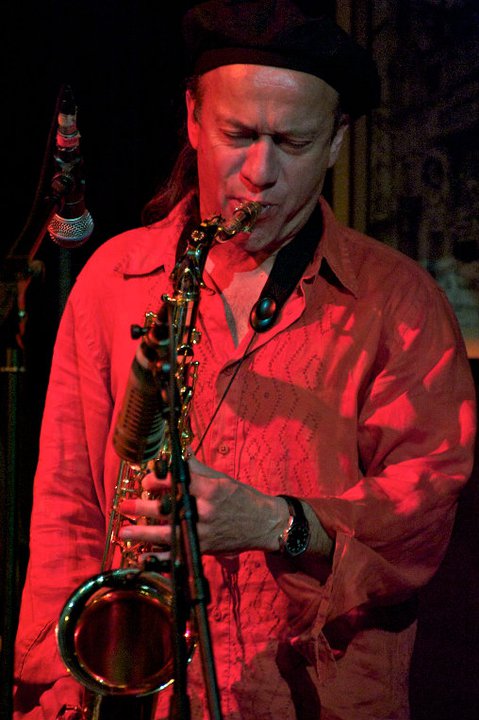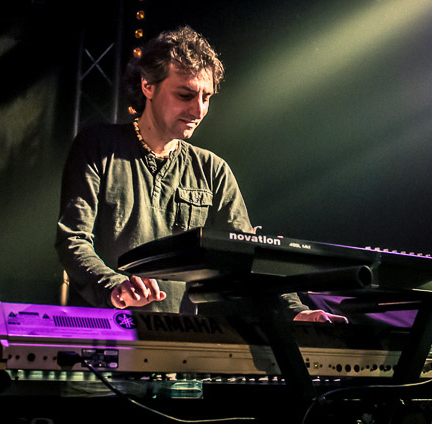 Alessandro Nocco Alain Debiossat Pierre Acourt


The 'ILUNA' album was very well reviewed in USA and Europe. Some tracks are still well ranked in US jazz-rock web radios, like Latch Radio (the tracks "Gimmick" and "Dom" were several times #1 on the Top-20 listeners playlist). The album had also very good reviews in european magazines (Guitarist Magazine, Guitare Extreme), american specialized websites (GuitarNoize, Jazz-Rock.com, AbstracLogix, RisingMagazine) and jazz-rock web tv show like JazzRockTV (Germany)...
In 2014, Renaud Louis-Servais calls two musicians he admires a lot, the french-born keyboardist Philippe Saisse (Al Jarreau, David Bowie, Al Di Meola, Simon Phillips, etc...) who lives in Los Angeles, and the australian drummer Virgil Donati(Scott Henderson, Allan Holdsworth, Steve Vai, Frank Gambale...) to offer them a collaboration on his next album (release in June). The 'Epic Circus' musical video is shot in early 2015 in Los Angeles, featuring Virgil, Philippe and Henri.
The story goes on...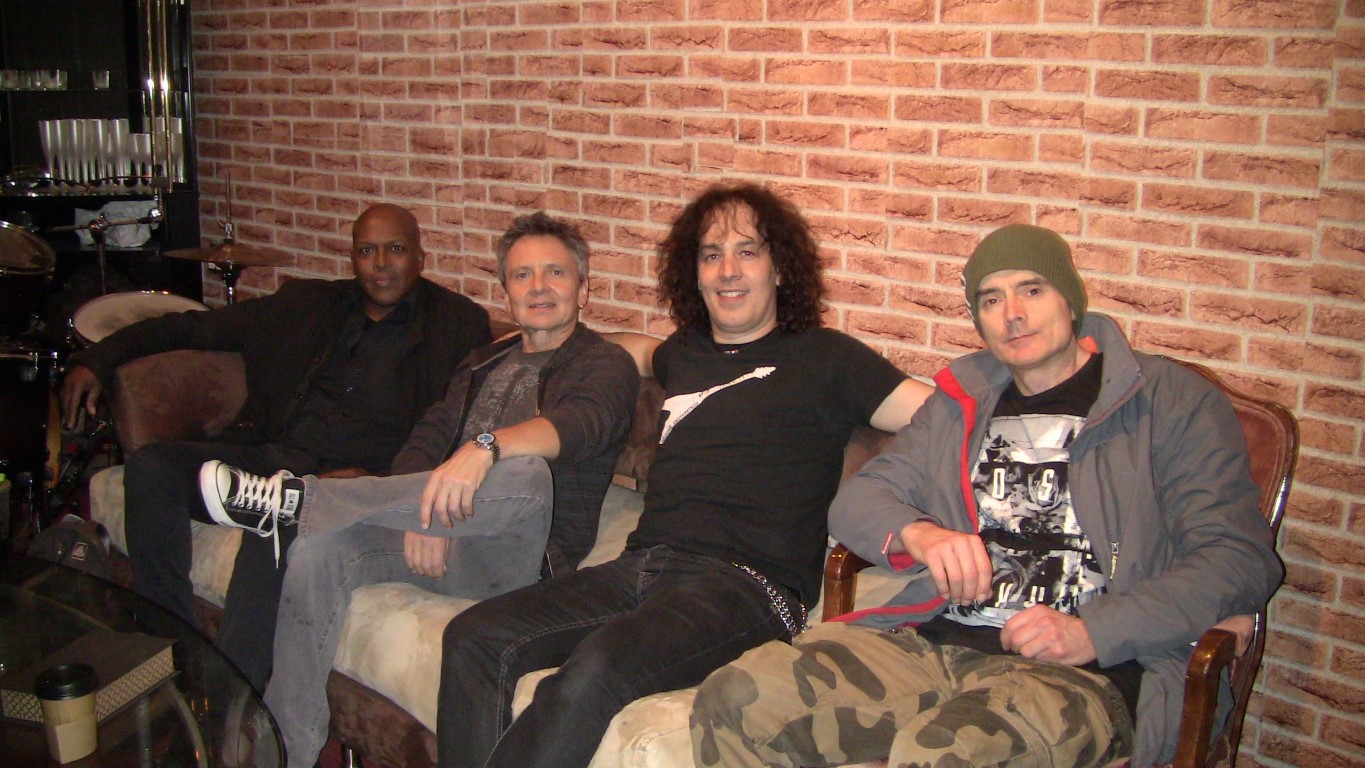 from left to right, Henri Dorina, Philippe Saisse, Renaud Louis-Servais and Virgil Donati in Los Angeles (2015)